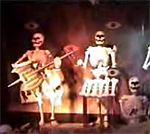 I don't often find other haunts which really strive to be age-appropriate for all audiences. But the
Boney Island Yard Haunt
, by
Simpsons
producer Rick Polizzi, certainly captures the spirit of "Halloween for Everyone."
Although he takes a different tack than our own
Carnival of Souls
- his is much more whimsical and humorous - we both agree that there should be a Halloween venue for younger kids which doesn't involve getting chased with a chainsaw.
His display looks absolutely fantastic. He has many motorized props, so the place looks like it is bursting with activity: singing skeletons, ferris wheels, rides, spooks telling jokes, etc. It all has a very charming look to it.
Unfortunately, due to neighbor complaints, 2007 was his final year, after a ten year run. Sad to see, but I'm very happy I got to see this inspirational footage. Rick obviously added a little magic to many kids' lives with his work.