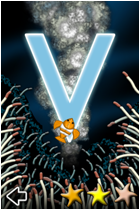 It's official! We're a published iPhone developer now!
LetterWriter: Oceans
, our handwriting training game for kids, is now available for sale on the iPhone App Store. It's $1.99, and packs a lot of underwater fun and poetry into a little package.
If you download it and enjoy the game, I'd appreciate it if you write a glowing review for us, and tell your friends about the game. We need some word of mouth to get the news out, because a whole raft of letter-writing games showed up on the App Store in the last couple of weeks. (Bummer for us!) So far, ours looks like a standout, but it won't take much to get lost in the glut.
We hope you enjoy it!