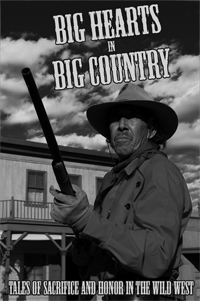 I've updated the original version of
Big Hearts in Big Country
to
version 2 of the rules
.
In this new set of rules, you will find:
Rule tweaks and clarifications, including a full example of a sample gunfight.
More good guys to befriend and more bad guys to stand against.
More detail and story hooks for the sample setting, Sangre De Dios.
Spiffier, more western-themed layout.
More detail in the character archetype generator.
More artwork.
Enjoy. If you play it, please send me a play report - I'd love to hear how it goes for you.