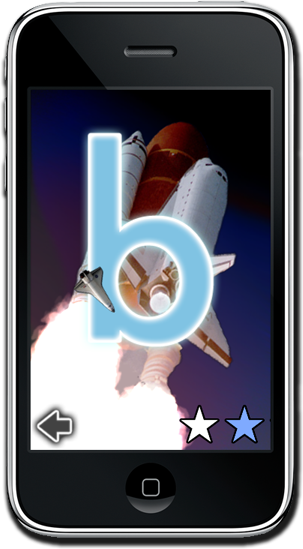 Our new educational iPhone game,
Letter Writer Space
, is now available in the App Store!
This sequel to
Letter Writer Oceans
lets kids learn and practice their lower case letters while learning about fun astronomy concepts.
They begin by selecting a letter against a scrolling backdrop of the Very Large Array in New Mexico at sunset, and then they blast off to an animated scene where they can practice drawing the letter. Each scene is about an astronomy concept starting with the letter, so they can learn to draw their "q" glyph when viewing a "quasar", or learn to draw their "c" glyph when viewing a "comet".
A little space shuttle prompts the child where to start the stroke, and follows along as the child follows the pulsing dots to the end of the stroke, reinforcing the stroke before, during, and after the child's action. If they make the stroke correctly, they move on to the next stroke, and when they complete the letter, they earn a star. (This encourages correct strokes, rather than just allowing for random scribbling, as other letter writing apps do.)
When the child has earned four stars, an info panel with more information about the animated scene becomes available. Touching the info button shows the info panel, and fun facts about the scene are fully narrated, sharing the wonder of astronomy and the space program with kids while they play.
Buy it now!