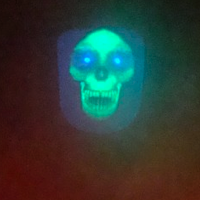 Here's a use for our digital puppets I hadn't seen before: recreating the audience chamber scene from
Wizard of Oz
.
For Halloween 2009, Chris used
our "Yorick" digital puppet
as the ominous head over synthetic flames to retell the story with his own, Tim Burton-esque spooky spin on it. Be sure to check out the other cool stuff this home haunter put into this year's highly original haunted theme while you're there.