Well, the Gordo demo has been out for quite a while, and I haven't received any problem reports, so I've
released Gordo for sale
.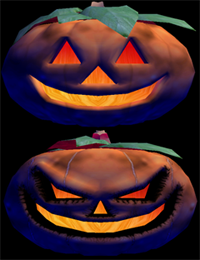 Gordo
is our new digital puppet for 2007, a new addition to our existing line-up of
Yorick
and
Mirror
digital puppets. It's a haunted pumpkin that has a friendly, tot-friendly side and a corrupted, angst-ridden-teen-friendly side. You can spook or delight your visitors, or do both - Gordo can switch between modes instantly to accommodate all your visitors.
There is a free demo you can download to try it out. The full version is $15.
If you like Gordo, or Yorick, or any of our offerings, I'd appreciate it if you spread the word a bit to your fellow home haunter friends. We're not getting rich off this; it's just helping to offset the costs of our own home haunt each year.
And, as always, if you use Gordo in your home haunt, please send us a link where we can check out videos or photos of it in action - we're always amazed at the creative uses people put our products to.
Happy Haunting in 2007!